Forbidden Forest at Holmside Park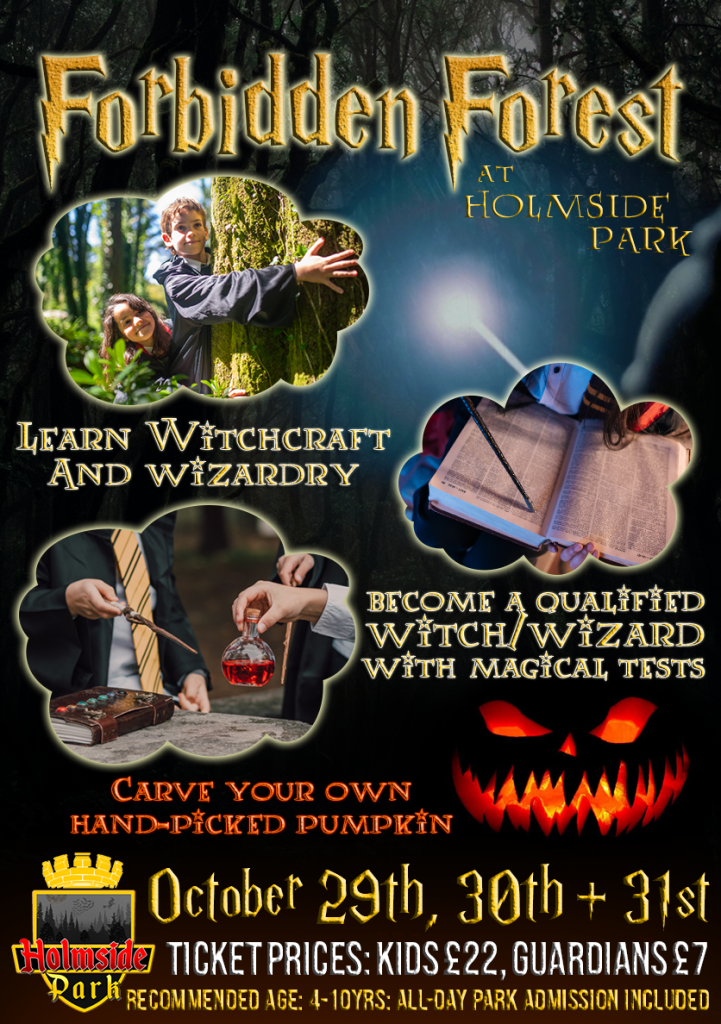 Magic is coming to Holmside Park this Halloween!
Prepare yourselves for a spellbinding experience brand new for October 2021 filled with wizarding activities, pumpkin carving, all-day play + more!
This October Half Term, venture into our Forbidden Forest where our enchanting experts will teach your little ones how to become a fully qualified witch or wizard! They will engage in a range of magical activities and tasks to prove they have what it takes to be a great sorcerer!
Each child will be given a Holmside Park for Witches and Wizards Official Witch/Wizard Certificate to prove their magical ability. After your visit into the forest, each child will pick out their own pumpkin to carve in our spooky craft station (pumpkin is included in your ticket price)!
You won't need to cast a spell to make the fun last for hours on end as all-day park admission is included with your ticket! Up to 8 hours of non-stop family excitement!
All guardians are welcome to venture into our mystical woods along with their children to watch the magic unfold!
*This event is recommended for ages 4-10 years, but younger/older children are still welcome to take part*
Dates, Prices + How to Book
Magic activities, pumpkin carving + all-day park admission with 20+ activities included. Recommend age 4-10 years
Adults that wish to use the Giant Inflatables will need to add the General Admission Upgrade for Guardians (£7) option at checkout
Dates: Friday October 29th, Saturday October 30th & Sunday October 31st
To book, please select a "Forbidden Forest + All Day Park Admission (£22)" ticket for each child attending, and a "Forbidden Forest Guardian Admission (£7)" for each adult attending.
Your booking time slot is for the visit into the Forbidden Forest only. Regardless of the time you book, you can arrive any time from 10am to enjoy the rest of the park's many activities. Please make sure you are at the gates into the woods before your scheduled booking time
Standard admission tickets will also be available for those wanting to attend the park as normal without access to the Forbidden Forest.
Notice: Later times are not for the faint of heart! The Holmside Forbidden Forest can get pretty spooky when it gets dark.
*More dates & times may open based on demand*
Forbidden Forest tickets are limited in quantity and subject to availability on a first-come, first-serve basis.
Separate pumpkin carving and Halloween craft options will be available to book at a later date.
Please note: Halloween Tickets are pre-book only and are non-refundable and cannot be exchanged for an alternative date or event. Only those with a Forbidden Forest event tickets will be able to participate.
Free onsite parking. We recommend wearing sturdy shoes.