Holmside Park's Outdoor Dino Rextacular
DINO DAYS ARE BACK THIS JANUARY & ALLOWED TO GO AHEAD. TICKETS ON SALE NOW
Take a walk through our pre-historic woods, back to a time where dinosaurs ruled the land! Gaze at a range of dinosaurs & learn all about how they lived thousands of years ago with the help of our Holmside Park Rangers. At the end of the trail, a giant moving t-rex awaits you!... But don't worry, he's friendly! And every family that attends this event is welcome to take a photo with Rexy the Dinosaur. Each child that completes our dino walk will also receive a tasty big bag of sweets as a reward.
Along with all the dino fun, we will have a selection of outdoor activities for both kids & adults to enjoy! Along with some event-exclusive activities such as denbuilding & dino bone hunting, all of our usual outdoor play favourites will be available for use! We've got plenty to keep toddlers, kids & even adults entertained.
Our outdoor snack kiosk will be open so you can enjoy hot & cold refreshments as you venture back in time!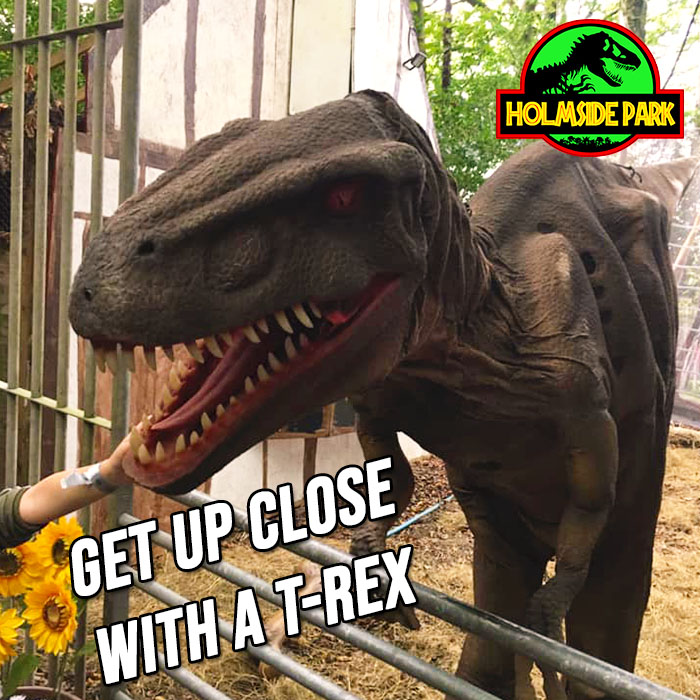 DATES: JANUARY 15TH, 16TH, 22ND, 23RD, 29TH + 30TH
TICKETS: KIDS £12 ADULTS £5