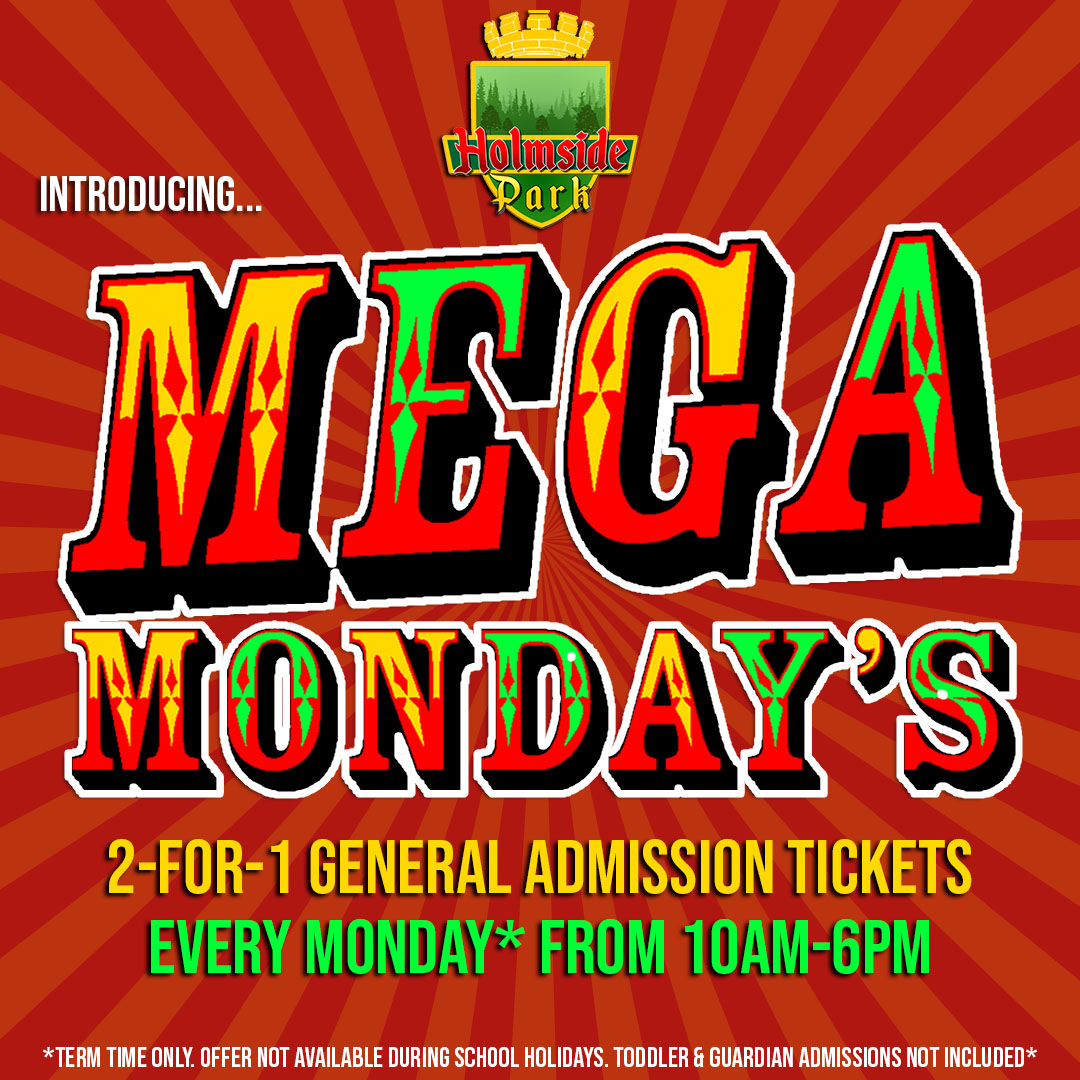 From 10am-6pm every Monday during term time, you can get 2-for-1 on General Admission (£14) tickets! This gives you full access to all of our park's 20+ activities for anybody age 4 years+ (kids or adults) for the entire day!
Whether you plan on visiting for a full day or you need to bring the kids somewhere for a few hours after school, Mega Monday is our best value deal.
Included with your Mega Monday Admission ticket:
- Entry for two people age 4 years+ (kids adults included)
- Unlimited fun any time from 10am-6pm
- Stay as long you like
- Soft play
- Giant Inflatables
- Archery
- Roller Skating
- Outdoor Area
- 20+ Activities in Total
Enjoy delicious hot food, snacks, cakes & drinks from our on-site cafe or bring your own picnic!
Please note that any extra participants will have to pay for a full price ticket to enter Holmside Park. Adults can participate using a Mega Monday Ticket or a Guardian Ticket.
*Please note this offer is term time only. 2-for-1 offer does not apply to Toddler or Guardian tickets*
All other customers will be charged as normal.
2x General Admission Tickets for the Price of 1.
Includes:
Holmside Park Anti Bacterial Socks
Giant Inflatable
4 in 1 Inflatable
Soft Play
Roller Skating
Pole Joust
Football
Basketball
Table Tennis
Archery Taster session
Entrance to the Creative Play Area
Entrance to our Outdoor Area including;
Fort with Tunnels and Slides
Swings
Outdoor Obstacle Course
Small Karting Track (Coin operated)
Mini Quads (Coin operated)
Tractor Track
Fire Engine
Helicopter
Football Pitch
Pedal Karts
Sandpit
Jumping Pillows
Zipline

Guardian admission into the park. Access to the giant inflatables not included. Perfect for groups with an odd number of visitors. Not included in the 2-for-1 offer.
Includes:
Roller Skating
Soft Play
Football
Basketball
Table Tennis
Archery Taster session
Entrance to the Creative Play Area
Entrance to our Outdoor Area including;
Fort with Tunnels and Slides
Swings
Outdoor Obstacle Course
Small Karting Track (Coin operated)
Mini Quads (Coin operated)
Tractor Track
Fire Engine
Helicopter
Football Pitch
Pedal Karts
Sandpit
Jumping Pillows
Zipline

Admission for children age 1-3yrs. Not included in the 2-for-1 offer. Under 12 months go free.
Includes Unlimited Use of:
Soft Play Area
Toddler Inflatable
Creative Play Area
Dress Up Area
Entrance to our Outdoor Area including;
Fort with Tunnels and Slides
Swings
Outdoor Obstacle Course
Small Karting Track (Coin operated)
Mini Quads (Coin operated)
Tractor Track
Fire Engine
Helicopter
Football Pitch
Pedal Karts
Sandpit
Jumping Pillows